Christian Church Services
Church comes to your facility!
We specialize in serving senior communities
"For where two or three are gathered in my name, there am I in the midst of them." Matt 18:20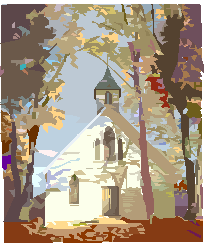 .

Supplemental Church Services
Need a helping hand? Give us a call.
We offer collaborative services that can seamlessly augment congregational talent and programs in a fun and spiritually sound, fiscally prudent, and scalable fashion:
During the time of transition, a compassionate and resourceful interim pastor can help bridge the gap by building upon a congregation's rich heritage, encouraging growth of each individual's talents as they pertain to the Christian life, and providing sound doctrinal guidance while enthusiastically carving a path together toward exciting new beginnings.

Sunday School & Bible Study (adult education)
A congregation's need for Christian education beyond Sunday services may eventually outpace resources. Program planning is further complicated in the midst of fluctuating attendance, changing age demographics, or seasonal variations related to weather. The services of an adjunct pastor educator can help congregations handily meet their need for meaningful and scripturally sound Christian education in a fiscally prudent manner that is scalable to forecasting metrics.
Guest Preaching for Filling In, Special Programs or Holidays
Pastors are very busy men and women. They work very hard to shepherd the flock. When a day off is indicated or a vacation is planned, a guest preacher can help keep things on track during the brief absence. We can follow a program plan already in place or offer something new.
We offer special programs too, which are great for introducing a brief change of pace or to academically explore select topics with which some may not be readily familiar. Special programs and festive holiday offerings are popular tools used in local outreach activities and evangelical, promotional efforts as well.
Church collateral conveys the tone and focus of a program as well as the church behind it and all of those materials make a lasting impression on the reader. Volunteers are often relied upon for the production of printed materials and their availability to do so may change. We can help with the authorship, design, and printing of various materials used in worship services, educational programs, and promotional activities including but not limited to church bulletins, pamphlets, posters, and flyers.
Funeral Officiant Services
We can help churches to holistically meet the needs of their congregants by ministering to grieving families and friends in their time of spiritual need.
To learn more about our Funeral Chaplaincy services,
click here
.